Too often we get caught up on desired outcome because we "know" what we want. We don't take the time upfront to organize and ensure we have a foundation for how to move forward. Very similar to the approach I would take as a child getting a brand-new Lego set. Of course, I didn't need the instructions provided with the model to reach the outcome I wanted, namely the "picture" on the front of the box. Did you? We often approach use cases for analytics in the same fashion. We understand the concept of how it will:
Reduce operating cost
Improve grid reliability
Drive the Utility Digital Transformation
Other business value
They keep bringing Legos!
The problem is we try to go from the raw data, or pile of Lego pieces, to the end story we want. Think about the complexity of just one segment of the utility space for operational data which has generation, transmission, distribution, DER, work management, device readings and so much more. That is a large pile of Legos of different shapes, sizes, and dimensions.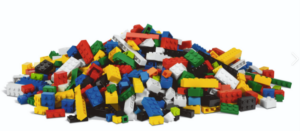 This pile continues to grow as you add more and more areas of the utility business such as Market Operations, Customer Services, Back-office management, the growth of loT and interconnection of the electric grid. To truly build the end "story" you must take an approach which allows you to build the story now, AND enables you to continue to build your story for the future.
We must organize all our Legos!
To truly support Digital Transformation within the Utility organization through the analytics, BI and AI journey you need to take the time to "sort" the data first and continue to "sort" it as new data comes about. For example, how are you going to model and establish a common context and semantic meaning of Asset? This is how you start to "sort" your data for your organization to build what you want to build. Not taking this necessary step for defining the data model results in multiple solutions for integration and implementation of analytics use cases and extra effort on your part.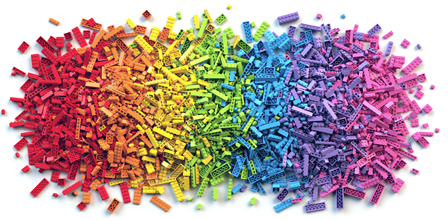 Data modeling organizes your data and standardizes how they relate to each other and your business. This is critical because it provides the structure for supporting your data analytics needs today and in the future. It furthers helps validate business requirements to ensure the proper functioning of the system leveraging data into usable models:
You want to reflect your business operations
You want to answer business questions faster and drive change
You want to innovate
Build the Lego scene!
We, at Xtensible through our work with our clients have developed services to help you with standards-based data modeling and analytics and our Product Affirma not only helps with data modeling, but also with data governance and build automation just to name a few other areas needed to help you build your "Lego" scene, going beyond simply organization of data.
Affirma supporting your "Lego" blocks
Xtensible has worked with numerous organizations on data related activities from Enterprise Information Management to Integrations to complex enterprise analytic solutions and platforms. Through our experience working with numerous "Lego Blocks" within the utility industry we have developed Affirma to establish an enterprise semantic model and manage the metadata and design to support these different areas.
Affirma helps organizations integrate and connect the dots across the organization and it tools supporting a design first approach for:
Reference Data
Enterprise Semantic Model (supporting the IEC CIM)
Design
Data Mapping
Data Linage
Data Profiling
Governance
Data Dictionary
Build Automation
Enabling seamless and frictionless access to your data.
Contact us at Sales@Xtensible.net to learn more about our services and our solution and Affirma to help you build your "Lego" scene.
Michael Covarrubias is a Managing Partner and VP of Strategy and Solutions at Xtensible.